Winter comes loaded with several fruits, veggies, and spices that are known to facilitate weight loss naturally too.
Add winter foods like carrots, beetroot, cinnamon, fenugreek & guava to your daily diet that could help you to lose weight and cut belly fat too.
Intermittent fasting refers to an eating cycle that includes a period of fasting of around 16-24 hours. It is a less of diet plan and more of a lifestyle choice to reap some incredible health benefits. Many proponents of intermittent fasting report improved weight management.
Intermittent fasting helps you eat fewer calories while boosting metabolism slightly. It is a very effective tool to lose weight and belly fat.
Winter Diet Plan for Weight Loss (Intermittent Fasting Meal Plan):
Start your day with detox water on an empty stomach. Drink 1 cup of Cumin tea or Fenugreek tea. Detox tea will detoxify your body and will help to naturally reduce inflammation, boost energy, support digestion, and promote healthy skin.
Detox Drinks for Weight Loss (have anyone):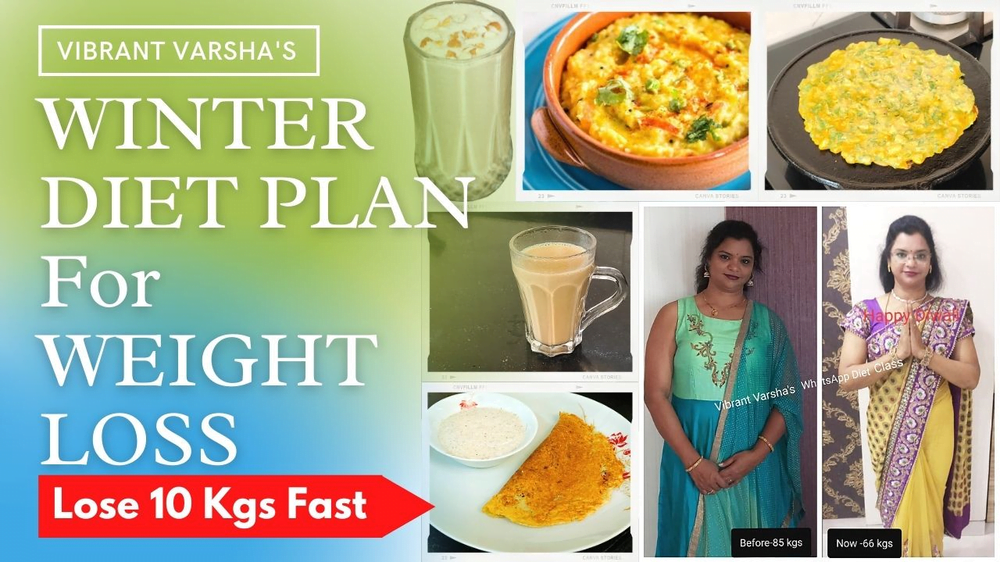 Morning Breakfast: You're First Meal of the day. Have 2 Multigrain Dosa / Idli or Dhokla with green chutney, tomato chutney, or low-fat curd.
Breakfast for Weight Loss (have anyone):
The first meal will make you full for a longer time. Along with this, you can drink Green Tea or Milky Tea with no sugar or very little sugar.
Weight Loss Tea Recipes:
Mid-Morning Break: 3 hours after the first meal – if you're hungry then have either 1 Kiwi or Berries or Anjeer or 5 Almonds & 1 walnut.
Lunch: In-between the first & the last meal (around 2 pm), If you feel hungry then have 1 bowl of Moong Dal Daliya Kichadi with any raita/salad.
Lunch Recipes for Weight Loss (have anyone):
Evening Tea (optional): Drink 1 cup ,Green Tea / ,Milky Tea with Less Sugar / No Sugar. If hungry, then have Roasted Makhana / Chana – 1 small kathori.
Dinner: Last Meal of the Day – Have 2 Multigrain Dosa / Idli or Uttapam with green chutney or tomato chutney.
Dinner Recipes for Weight Loss (have anyone):
At Bedtime, drink 1 cup of Turmeric Milk.
In between the meals, if you feel hungry, then eat Carrot or Berries, or Guava. Drink adequate water for the whole day, minimum 3-4 liters per day. Sleep well and avoid sugar & junk food.
For the best result along with this diet, do regular physical exercise, minimum 45 min-1 hours like Gym/Cycling/Swimming/Yoga.
No one plan will suit everyone. Ultimately, each person should work out their own meal plan with help from a doctor or dietician.
For more weight loss diet plans or weight loss recipes, subscribe to my YouTube channel VibrantVarsha or visit my website www.VibrantVarsha.com.