Healthy, Tasty & Easy Moong Dal Chilla Recipe for Weight Loss. Learn How to Make Chilla at Home with less oil/no oil. The best option for tiffin box/ lunch box.
Healthy, Nutritious, and Tasty Chilla made with Moong lentils. For the Moong dal Chillas, the mung lentils need to be soaked overnight or for some hours.
Recipe for Moong Dal Chilla:
Ingredient: Serving for 1 person
1 cup moong dal
1 green chili
½ tsp cumin(jeera)
Little ginger
4-5 nos spinach leaves
Salt to taste
Pinch of hing
¼ tsp turmeric powder
½ tsp coriander powder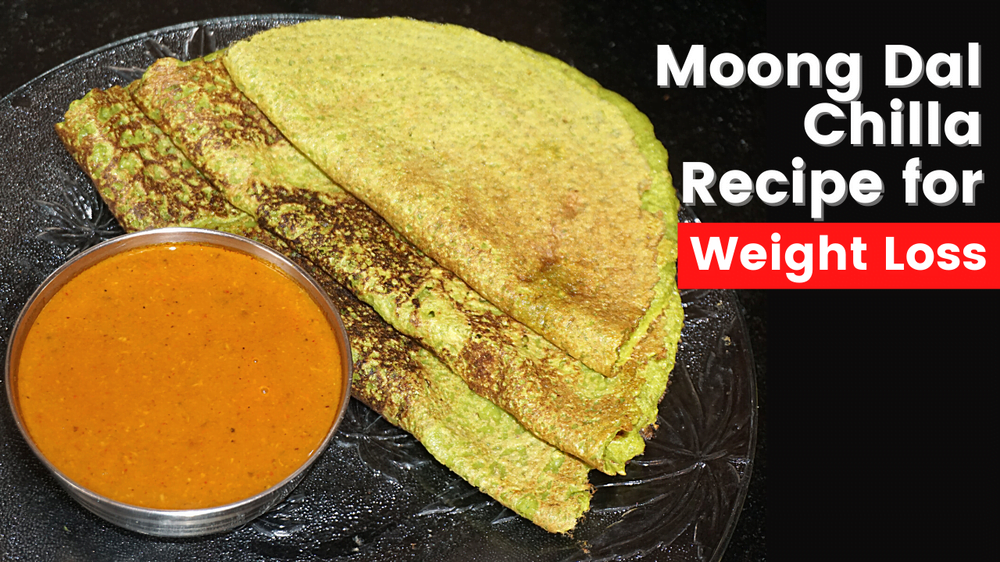 How to make moong dal chilla?
Rinse 1 cup moong dal 3 to 4 times in water
Then soak moong dal with 2 to 3 cups of water for about 3 to 4 hours
The moong dal will swell or double up in size. Discard the water.
Add the soaked moong dal to a grinder jar.
Add 1 green chili, ½ teaspoon cumin(jeera), little ginger, 4-5 nos Spinach leaves, pinch of hing, ¼ teaspoon turmeric powder, and ½ teaspoon coriander powder
Add 1 teaspoon salt or add as required.
Add ¼ cup of water
Grind to a smooth batter
If the batter is thick then add little water and mix it well, check the batter pouring consistency, neither too thick nor too thin.
Heat the pan/Tawa. This is important as the pan/Tawa has to be hot before you make the cheela.
Pour few drops of oil on pan/Tawa and grease it
Add a scoopful of batter towards the center of the pan.
Just rotate the batter with the back of the spatula giving a round and even shape.
Cook chilla on a medium flame.
Drizzle few drops of oil around the edges of the chilla.
After a minute they will look crisp and brown.
Flip the chilla and cook the other side for a minute, till golden brown and crisp.
Once the chilla appears crisp and brown, fold them.
Similarly, make all other chillas.
Serve the Moong dal chilla Hot or warm with tomato ketchup or chutney. Since moong dal chilla stays soft, you can also pack them in a tiffin box.
For more weight loss recipes & weight loss diet plans, subscribe to my YouTube channel ,Vibrant Varsha or visit my website www.vibrantvarsha.com.