Ragi is a gluten-free grain that belongs to the class of millets. This wonder grain is known as finger millet in English. It is often used to make porridge, malt, laddu, dosa, roti, and healthy biscuits.nnRagi malt is a nutritious drink made with ragi flour and water or milk. It is a healthy, delicious & nourishing beverage for breakfast or snack.
Health Benefits of Ragi:
Very effective in Weight Loss
High in Protein & Fiber
Loaded with Calcium
Rich in Antioxidants
Gluten-Free
Good for Diabetics
Good for Heart Health
Reverts Skin Ageing
Relieves Constipation
Recipe of Ragi Malt/Porridge:
Ingredients:
30g ragi flour
½ tsp Oil
½ tsp Ajwain (Carom Seeds)
1 glass water
Pinch of Salt
¼ tsp Black Pepper Powder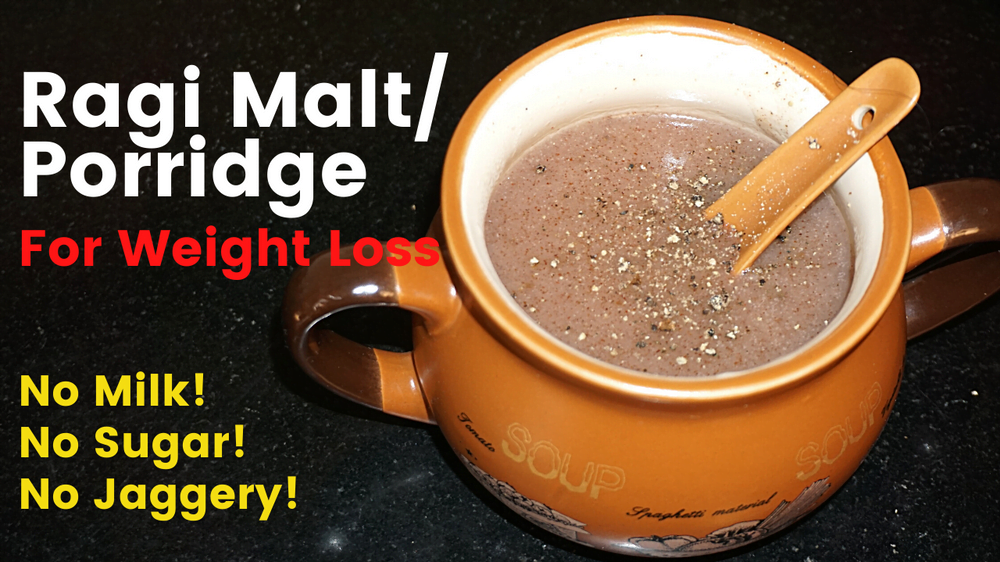 How to make Ragi Malt?
Add ragi flour to a bowl
Add some water
Mix it well to make lumps free paste
Heat a saucepan
In a saucepan, add ½ tsp oil or cow ghee and ajwain (carom seeds) & stir
Now add 1 glass of water
Also add ragi paste and a pinch of salt
Mix well and ensure there are no lumps
Keep stirring continuously to prevent lumps
And cook until the mixture turns thick and glossy for about 5-6 minutes on a medium flame
Optional – add jaggery or any other sweetener. Mix well and turn off the stove
Sprinkle it with black pepper powder or some nuts topped.
Serve Ragi Malt warm or cold.
For more healthy weight loss recipes, subscribe to my Youtube Channel ,VibrantVarsha, or visit my website www.VibrantVarsha.com.