Oats dosa recipe is quick, instant to prepare, and makes up for a healthy breakfast for your busy mornings. Adding it to your regular diet is so healthy for your body and as a result helpful in losing weight.
Oats are among the healthiest grains on earth. They're a gluten-free whole grain and a great source of important vitamins, minerals, fiber, and antioxidants.
Health Benefits of Oats:
Incredibly Nutritious
Contain many powerful antioxidants
High in the soluble fiber beta-glucan
Can lower cholesterol levels
Help lower blood sugar levels
Helps in Weight Loss
Help relieve constipation
Oats Dosa is made with oats flour. It's instant, it does not require soaking rice and lentils, grinding them into a batter, and fermenting like the traditional dosa recipe.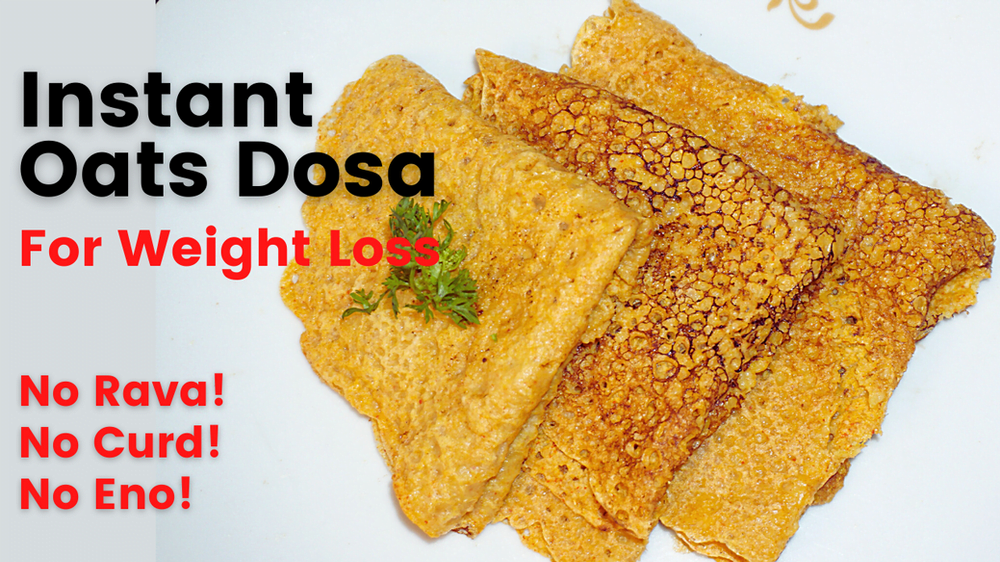 Recipe for Instant Oats Dosa:nnIngredients:
1 cup (60g) Oats
2 cups Water
Salt to taste
½ tsp red chili powder
¼ tsp Turmeric powder
½ tsp Coriander & Cumin powder
How to make Oats Dosa?
In a mixer grinder, take 1 cup quick-cooking oats or rolled oats
Grind coarsely the oats. If you already have oats flour, then take 1 cup oats flour for this recipe.
Transfer the Oats flour to a large bowl
Add 2 cups of water
Mix the batter
Stir and mix thoroughly until you get a smooth consistency without any lumps
Add ½ tsp red chili powder, ¼ tsp turmeric powder, ½ tsp coriander & cumin powder, and salt to taste
Mix again
Check the batter pouring consistency
Heat a cast-iron skillet/Tawa or a nonstick frying pan on medium to medium-high heat
Add few drops of oil and grease the Tawa/pan
Stir again the batter in the bowl and fill a ladle with batter and pour it on Tawa/pan in a circular direction
Cook the dosa on medium to medium-high heat
When cooked from one side, you will see that the edges loosen up and separated from the pan
Flip the dosa, if the base becomes crisp and golden
When the second side is cooked, flip again to the first side
Fold the dosa on the Tawa/pan
Transfer it to a plate
Serve Oats dosa hot with Green Chutney/Tomato Chutney/Flax seeds Chutney.
For more weight loss recipes and weight loss diet plans, subscribe to my YouTube channel ,VibrantVarsha or visit my website www.VibrantVarsha.com.